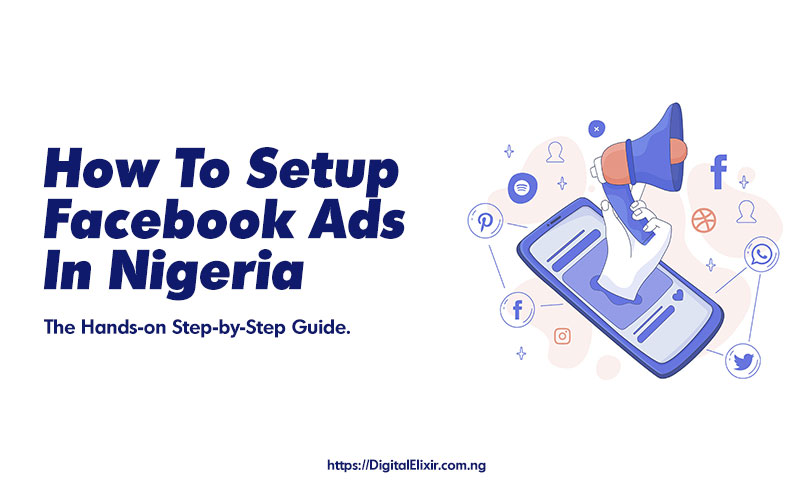 How To Setup Facebook Ads In Nigeria: The Hands-on Step-by-Step Guide
The main goal of every business is to make money. A very efficient technique to raise your revenues and sales is to market your good or service to more people. Sales are what keep businesses alive. And sales generate revenue. Facebook advertising is excellent for attracting new clients. Profits from Facebook advertising are solid. Facebook advertising helps acquire new clients, lure in additional clients, and boost sales. Most Nigerians, regrettably, are not familiar with Facebook ads, which are simple to set up, but they must be able to begin immediately. We will show you how to run ads on Facebook quickly.
Stats & Facts about Facebook
Given that 7.7 billion people worldwide, 2.93+ billion routinely use Facebook. It would be best if you considered the startling statistic about Facebook.

As of July 2022, there were nearly 37 million Facebook Users in Nigeria, accounting for 16.8 percent of the population. Overall, 32.8 percent of users were between 25 and 34 years, making this age group the most extensive user base in the country, followed by those aged 18 to 24.

In 2026, the number of Facebook Users in Nigeria reached 69.4 million, up from 23.88 million in 2020.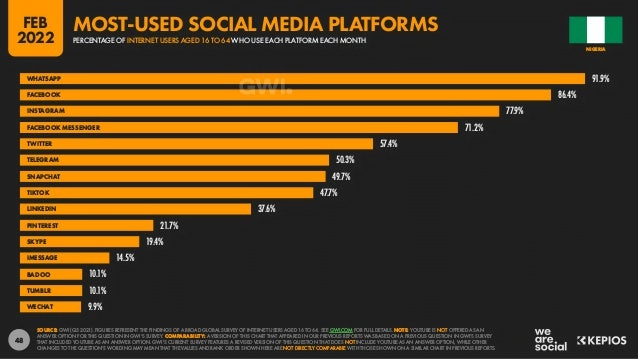 Nigerian Demographics
The first thing you need to know about running Facebook ads in Nigeria is the country's demographics. Over 60% of the population is under 25, making Nigeria a prime target for businesses catering to young people. Additionally, almost half of the population is urban, so if your target market is urban dwellers, Nigeria is a great place to run your ads for your business online and make more money.
How to Target Nigerian Facebook Users
Now that you know your target market, it's time to start targeting them with your ads. The best way to do this is using Facebook's "Detailed Targeting" feature. This allows you to target users based on location, interests, and behavior. For example, suppose you're trying to reach urban dwellers in Nigeria. In that case, you can use detailed targeting to only show your ad to people who live in urban areas and have interests that indicate they're likely to be interested in your product or service.
This tutorial will walk you through creating Facebook ads for your business or brand. We will also share some tips on creating effective ads that get the most out of your budget.
Why sell on the Facebook platform?

Facebook ad account overview

How to advertise on Facebook in 8 steps

Facebook advertising FAQs
Why sell on the Facebook platform?
It's likely that if you're reading this, you've already decided whether or not you want to sell the Facebook platform. However, in case you're still debating, here are some arguments:
Affordability (Dead Cheap): Because Facebook advertising allows for such exact targeting, you can be sure that you're getting the most for your advertising budget, making it suitable for small businesses.

Versatility. Thanks to the diversity of ad types and available objectives, you can target consumers at every level of your marketing funnel with Facebook advertising,

Gain audience insights. In their daily lives, people use Facebook frequently and for several reasons. The data you collect from Facebook adverts can be used to inform other elements of your marketing strategy. This would help you navigate the right audience.
Facebook advertising account overview
When you run Google Ads, you set up a Google Ads account, and then off you go, but several different properties are involved with Facebook. If you're new to Facebook advertising, you're susceptible to a black hole of confusion surrounding which accounts you need.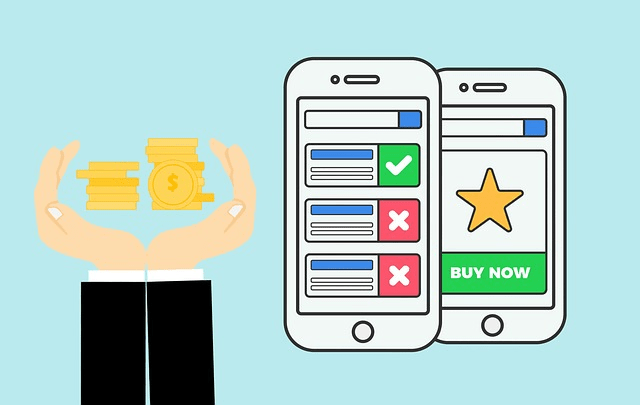 Here's the breakdown (and don't worry, I'm going to walk you through setting up all of these):
Meta Business Suite (formerly Facebook Business Suite) is an all-encompassing account that includes everything. You may manage both your Facebook and Instagram accounts with this free account. Additionally, you may gain insights, schedule articles, reply to messages, and receive notifications.

Facebook Business Manager is currently interchangeable with Business Suite. Previously, it was the backend for managing pixels, payments, and other items that don't start with a P. Although all of these tasks can now be completed using the previous Facebook Business Manager interface, you can still do so by going to the help button and selecting the Switch to Facebook Business Manager option.

Ads Manager. This is where your ad accounts live. You will have multiple ad accounts in one Ad Manager account if you're an agency. If you're the only one managing your properties, you don't need a Meta Business Suites/Business Manager account to use Ads Manager, but it is recommended (and it's free, so it can't hurt).

Ad account. This is what you create within Facebook Ads Manager. You should only have one ad account per business (or per Facebook Business Page) 

Facebook Business Page. You need a Facebook Business Page to advertise on Facebook, but you don't need to be advertising on Facebook to create a Page. This is a staple in any organic social media marketing strategy. You can create a Page entirely separate from all of the above from your Facebook profile. Or you can create one out of Business Suite.

Ad campaign. This is where you choose an objective. You can (and should) have multiple campaign types within one ad account.

Ad set. This is where you determine your ad budget/bidding, schedule, and audience targetings—such as by demographics, interests, age, and more. You can have multiple ad sets in one campaign.

Ad. This is your actual copy and creative. You'll want to have at least two ads per ad set. We'll talk more about Facebook ads account structure later on.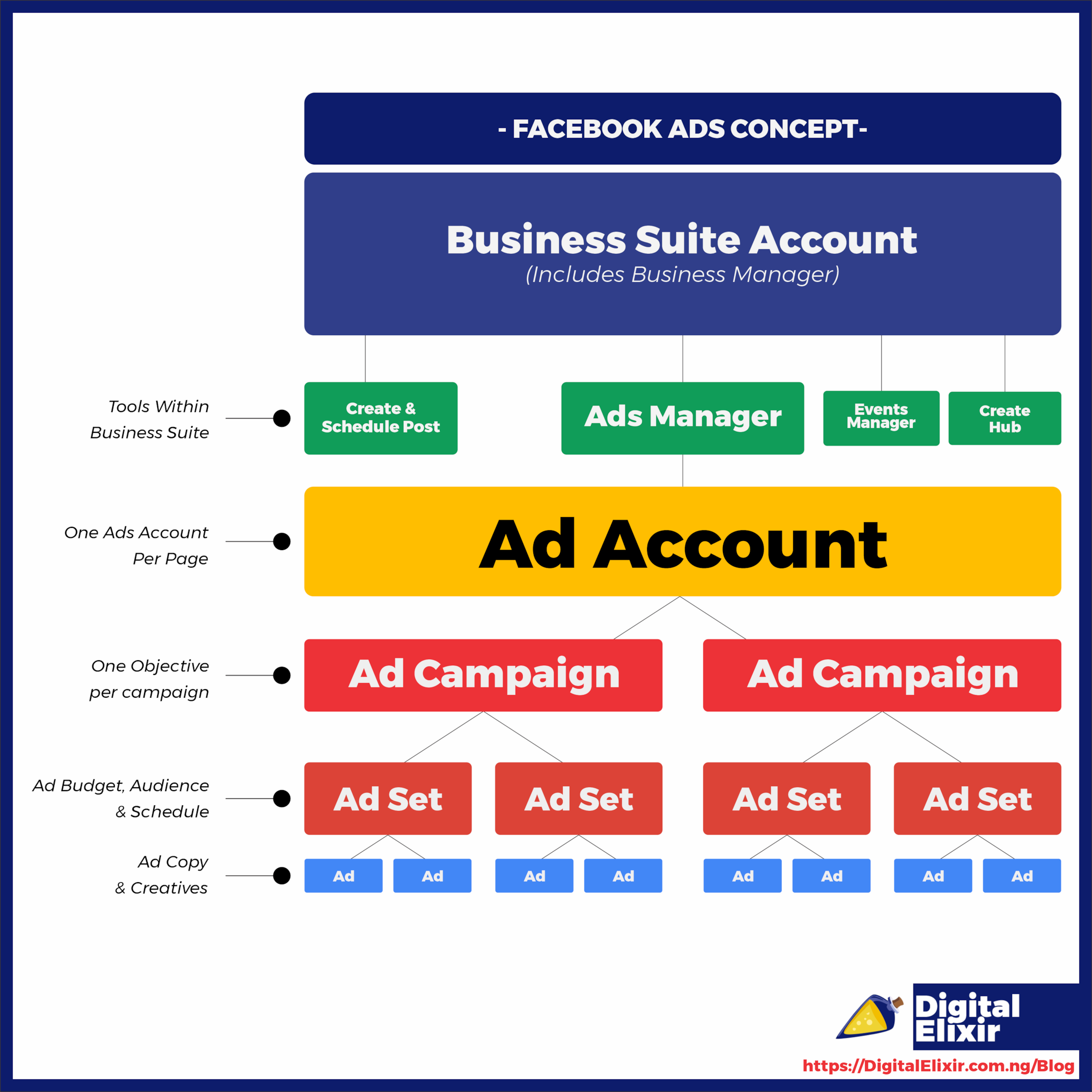 How to advertise on Facebook
Now that we have a graphic representation of the Facebook ad concept, gear up and grab your charger because it's time to travel. The steps we'll be covering are as follows:
How To Create a Business Suite Account

How To Connect or create your Facebook Business Page

How To Create your ad account

How To Add the Pixel to your website

How To Create Your Facebook advertising campaign

How To Create Your Facebook ads set

How To Create your ad

How To Publish you ads
1. How To Create a Business Suite Account
Not long ago, Facebook merged Business Manager and Business Suite are now merged into one. Let's say you create a Business Manager account. You will be brought into the Meta Business Suite interface, where you can access the old Business Manager interface (by clicking Help> Switch to Business Suite). However, your best bet is to get familiar with Business Suite since it's here to stay.
To create an account, go to business.facebook.com and click "Create account" on the upper right.
Afterward, you would be required to fill in your full name, email address, and business suite name. When you provide those details, you should submit them. Upon confirming your email, your account will be set up.
NOTE: You need to have your Facebook account logged in.
2. How To Connect or Create Your Facebook Page
Head down to the bottom left and click on "Settings."
From there, click the second gear you see, or you might see a prompt to go to Business Settings. Both take you to the same place. Business settings are the legacy of the business manager.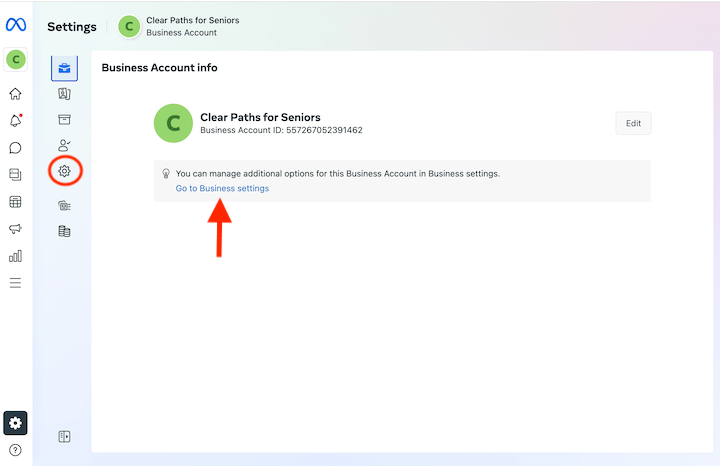 You need a Facebook page to advertise. On the left window, select Pages, and then click Add. Here you can either add an existing page, create a new page, or request access to a page (such as if you're running ads for another business).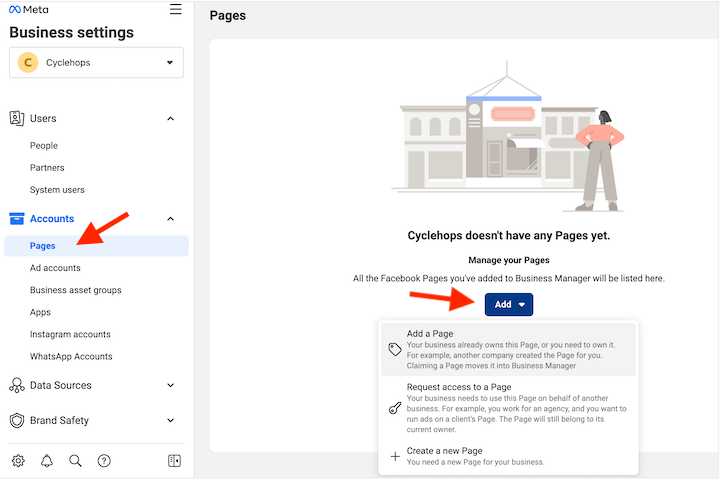 While you can supply the bare minimum to create your page, it's best to build it thoroughly before you start advertising since users can navigate to your page from your ad. Use our guide to creating a Facebook business page to set your page up fully and optimize it for marketing purposes.
3. How To Create your ad account
Okay, now navigate back to Ad Accounts in that left-hand pane. You'll see an option to create a new ad account on the right.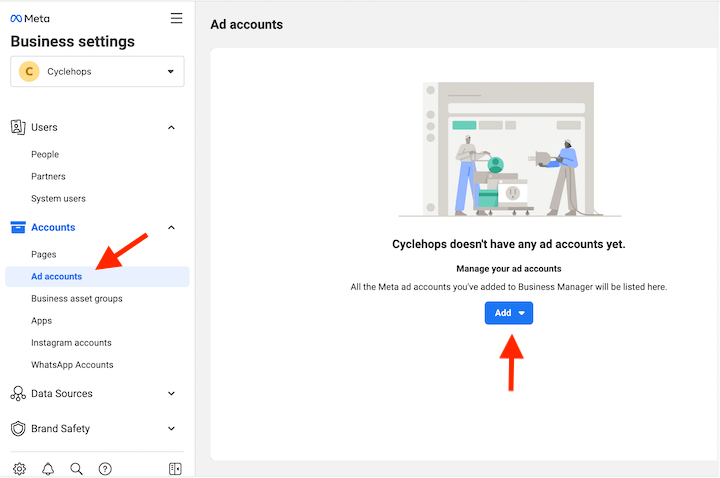 Provide your Ad account name, time zone, and currency, then click Next. Facebook will then ask you whether the ad account will be used to manage ads for the business account through which you created this ad account or another business or client.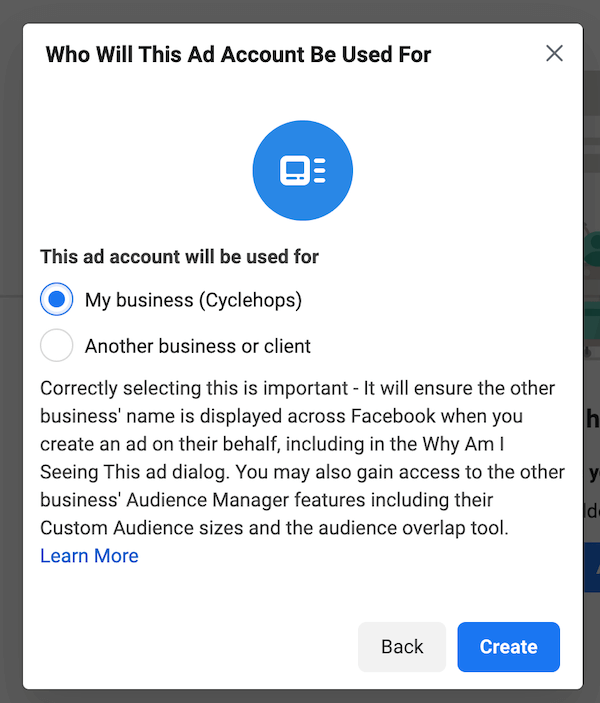 Next, you'll be asked to add people and grant permissions. Select your name and give yourself complete control over everything.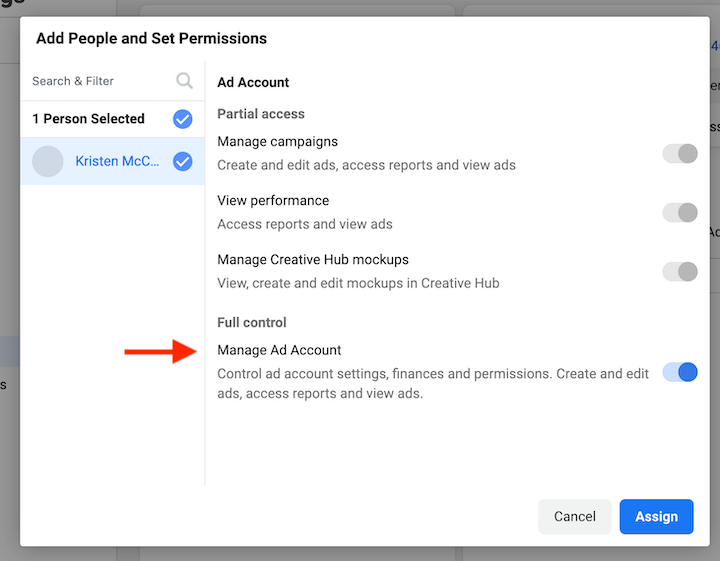 Click Assign, and then click Add Payment Info. Now you have an ad account set up.
4. How To Add the Pixel to Your Website
You don't have to do this step now, but you'll have to do it eventually, so you might as well get it over with! The pixel is a little snippet of code that will tell you what your ad viewers do once they land on your website. Insights from the pixel help you optimize your ads further and create Facebook retargeting audiences that tend to perform well.
Note! With iOS privacy updates and the eventual end of third-party cookies, we highly recommend you set up the Facebook Conversions API as well, as this is the best way to get the complete picture of your data possible.
To set up the pixel, go to Data Sources, select Pixels, and on the right, click Add.
Facebook will ask whether you want to install it manually or use a partner integration.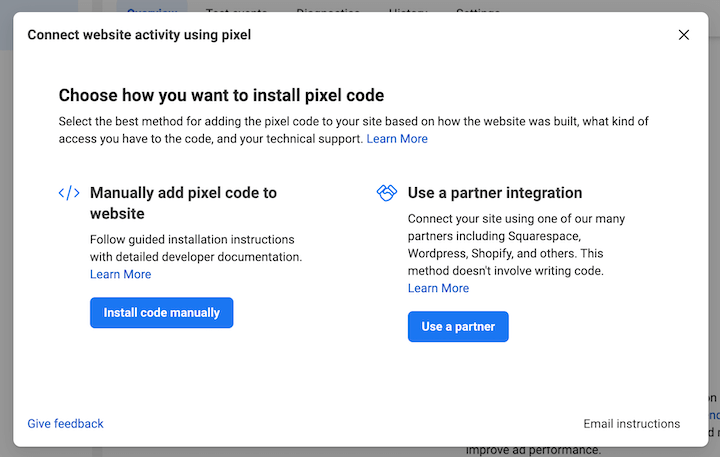 The partner integration methods are designed to simplify the process without using code, so I'd encourage you to go that route first. Current partners include:
WordPress

WooCommerce

Tealium

Shopify

Makeshop

Magento

Google Tag Manager

Conversions API Gateway

Cafe24

Zapier

Segment
How To Set up your web events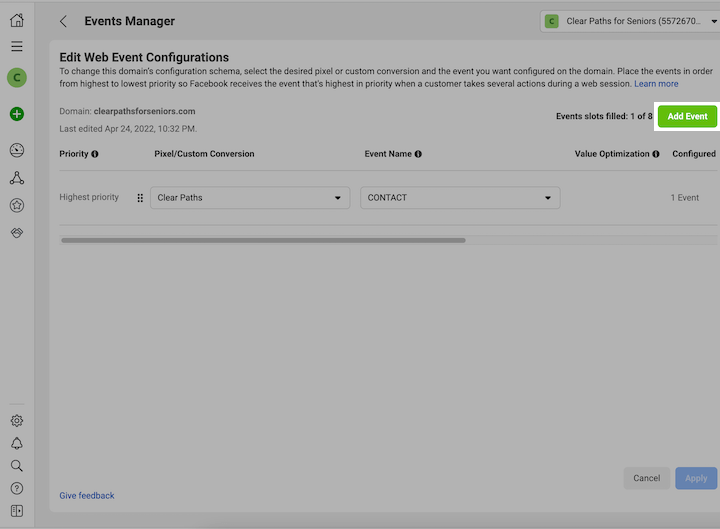 You can always revisit the domain verification process by going to Brand Safety > Domains and the event setup process by going to Events Manager.
5. How To Create Your Facebook ads campaign
Now click the hamburger menu at the top left (All tools) and select Ads Manager.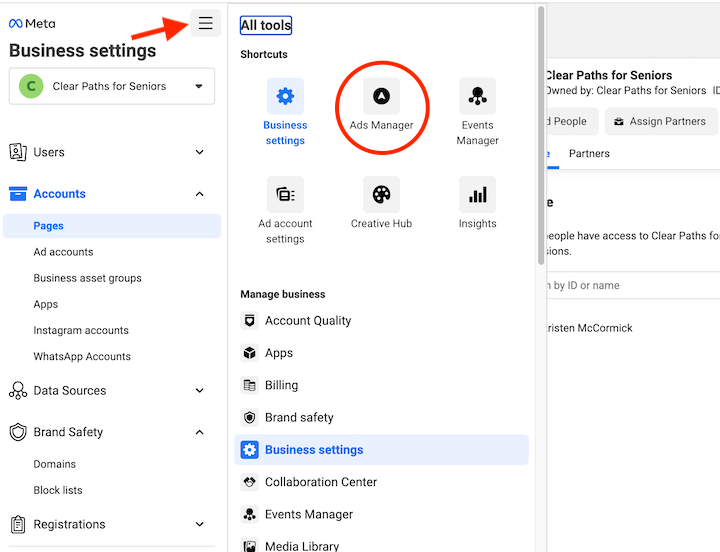 On the left, select "Create."
Choose your campaign objective.
Facebook offers three categories of campaign objectives: awareness, consideration, and conversion.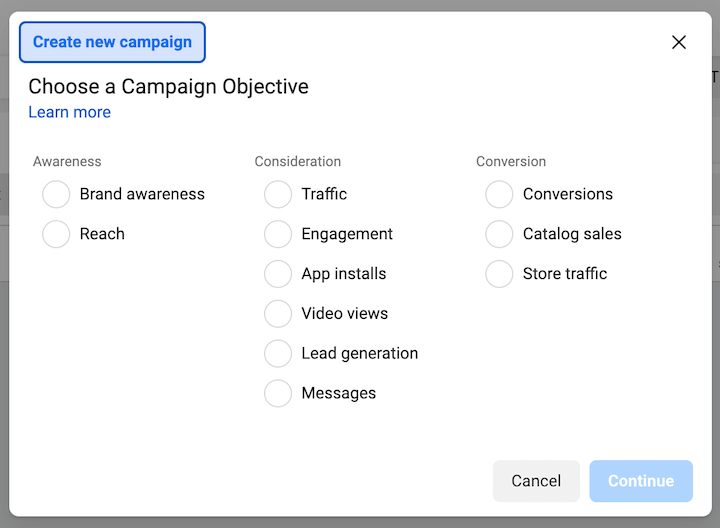 Awareness

Consideration

Traffic

Engagement

App installs

Video views

Lead generation

Messages

Conversions

Catalog sales

Store traffic
Regarding which objective to choose, it will depend on your offer and who you're targeting. Ultimately, you want to have a full-funnel Facebook ads strategy where you create different campaigns for each stage of your funnel, but for Help choosing which objective is best for this particular campaign, this chart may help: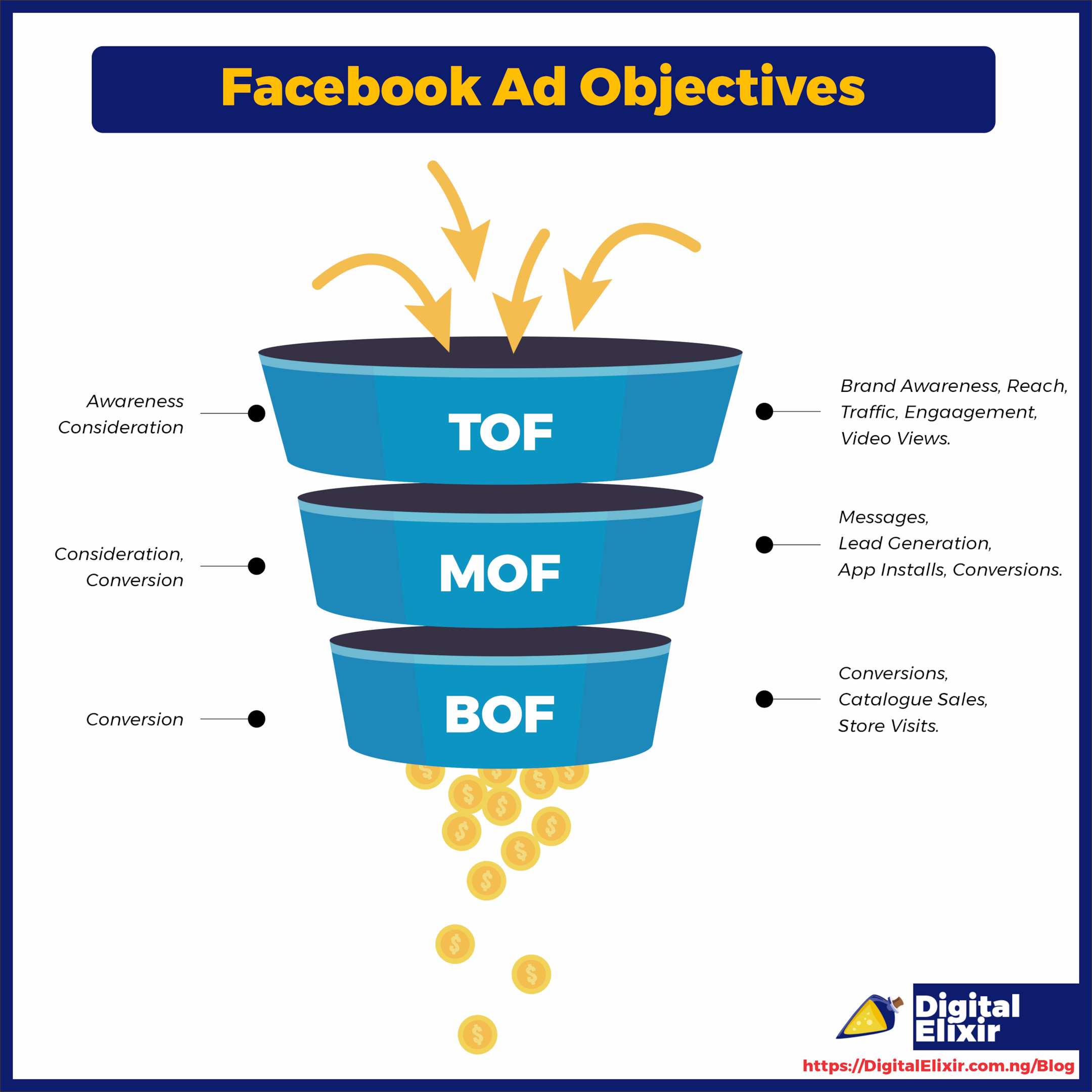 Note that if you choose a conversion campaign, you need to have your pixels set up and web events configured.
Campaign settings
Once you select your objective, you'll see something like this: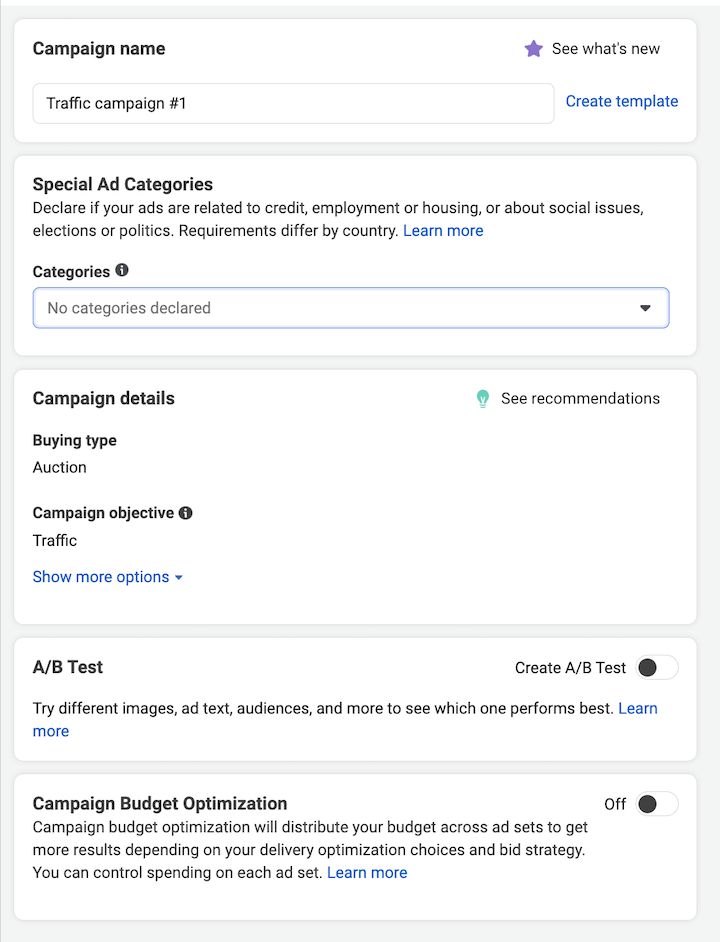 Use whatever you want, as long as it makes sense to you.

Special Ad Categories: If you fall into any special categories, declare that here so you can take care of any further documentation you may need to provide, depending on Facebook advertising policies.

Campaign details: Here, you can change your objective if you need to and select a campaign spending limit (if you go with a daily budget—more on budgets in a bit).

Campaign Budget Optimization: With this setting turned on, instead of choosing your budget separately for each ad set within a campaign, Facebook will decide which ad sets should
6. Create your Facebook ad set
Now we're on the ad set stage. There are more features and settings here, but here's what matters.
Traffic: Choose where you want to drive traffic. I chose a traffic campaign for my objective, but this window may look different for different objectives.

Dynamic creative. Facebook dynamic ads operate similarly to responsive search ads, where you provide the assets (images, videos, headlines, descriptions, etc.), and Facebook will mix and match them into different combinations. For simplicity's sake, I will not opt into this setting.

Optimization & delivery. This is where you tell the algorithm what you see as success for your ad set so that Facebook can further refine who it shows your ads to.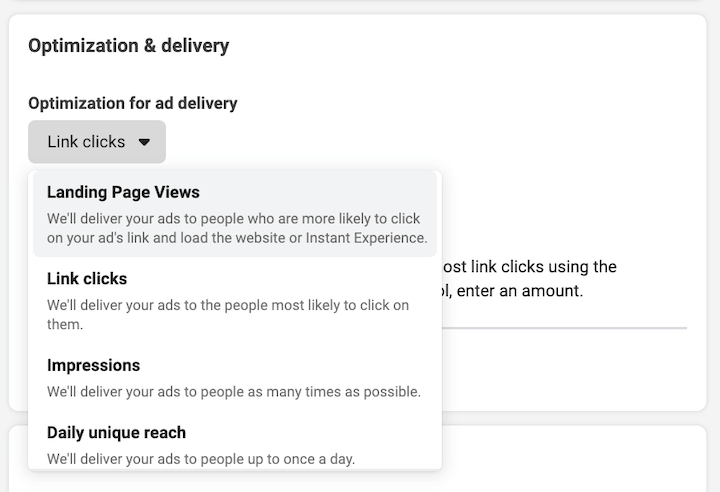 The options here will vary depending on your campaign objective, but here is a quick guide on how to choose: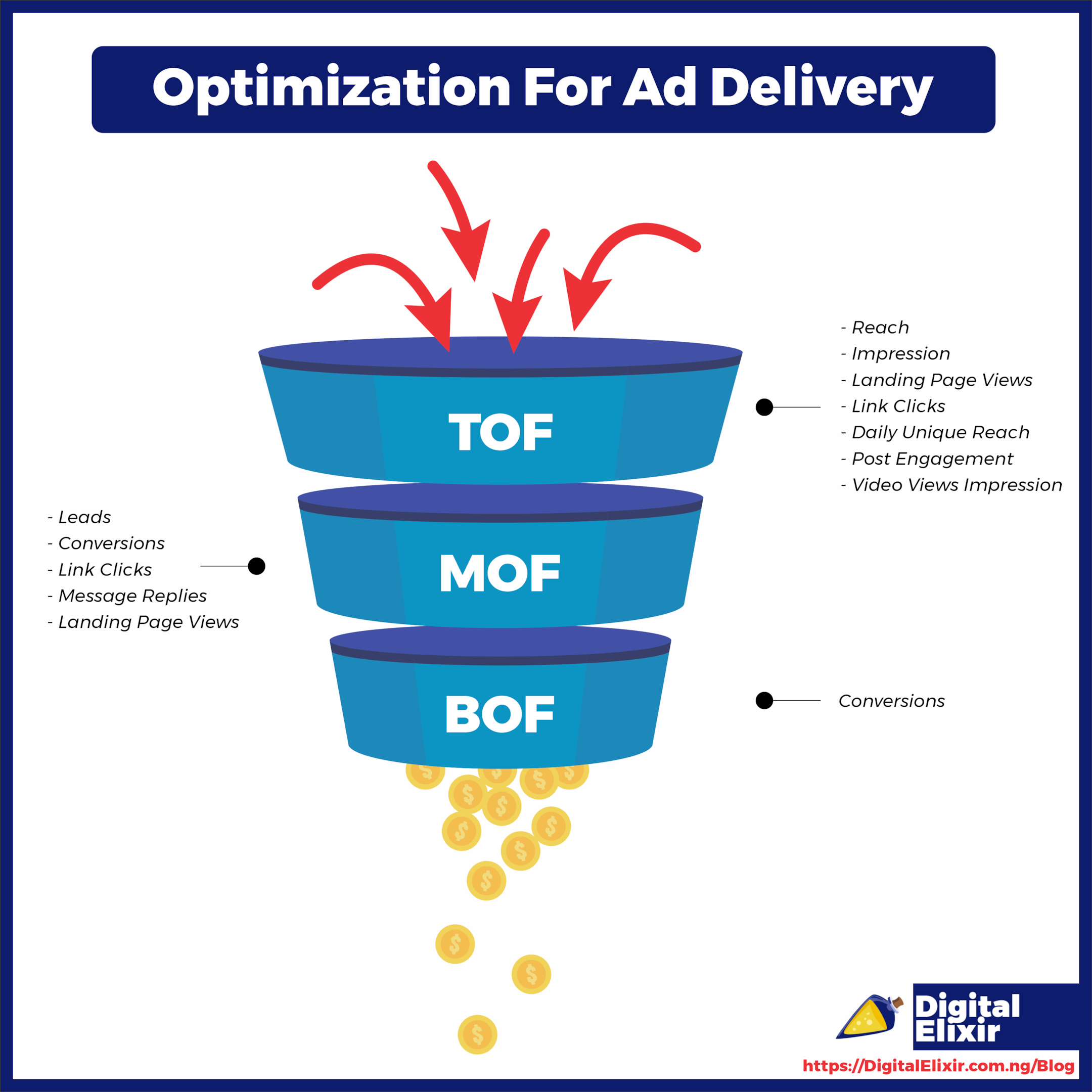 Budget & schedule
Here is where you choose a daily budget or a lifetime budget. You can learn about daily vs. lifetime budgets here but in general
Choose daily budgets when:
Your campaign will be evergreen

You want to maximize strong performance

You expect to change your budget regularly
Choose lifetime budgets when:
It would be best if you run your ads on a schedule

Your campaign has a set budget and end date
You also have the option here to set up your ad scheduling, which is pretty easy on Facebook. You can tell Facebook only to run your ads when it makes sense for your business (such as only during operating hours) or audience (such as only running your breakfast cafe ads in the morning).
Audience
In this step, you select exactly who you want to reach with your Facebook ad, which you can define based on the following:
Location

Age

Gender

Interests and behaviors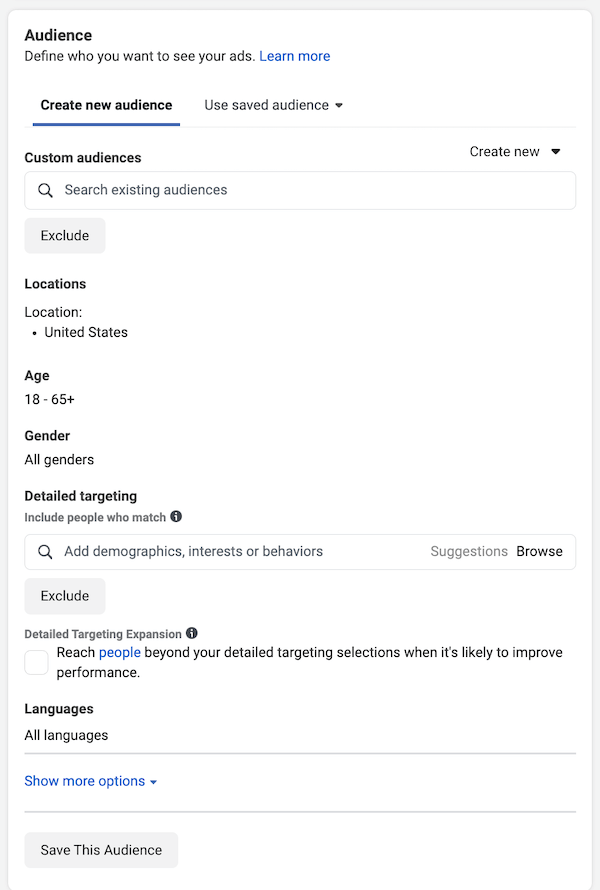 You can check out our complete guide to Facebook ad targeting, but here's a quick crash course:
Though it has taken a bit of a hit due to privacy changes, Facebook's targeting is still among the most powerful since users provide detailed information about themselves on this platform—their age, marital status, job, interests, and more. There are three types of audiences you can target in Facebook ads.
Core audiences: target users based on demographics, interests, and behaviors.

Custom audiences: target and retarget customers and leads. These are pixel-based.

Lookalike audience: target people similar to your existing customers and leads.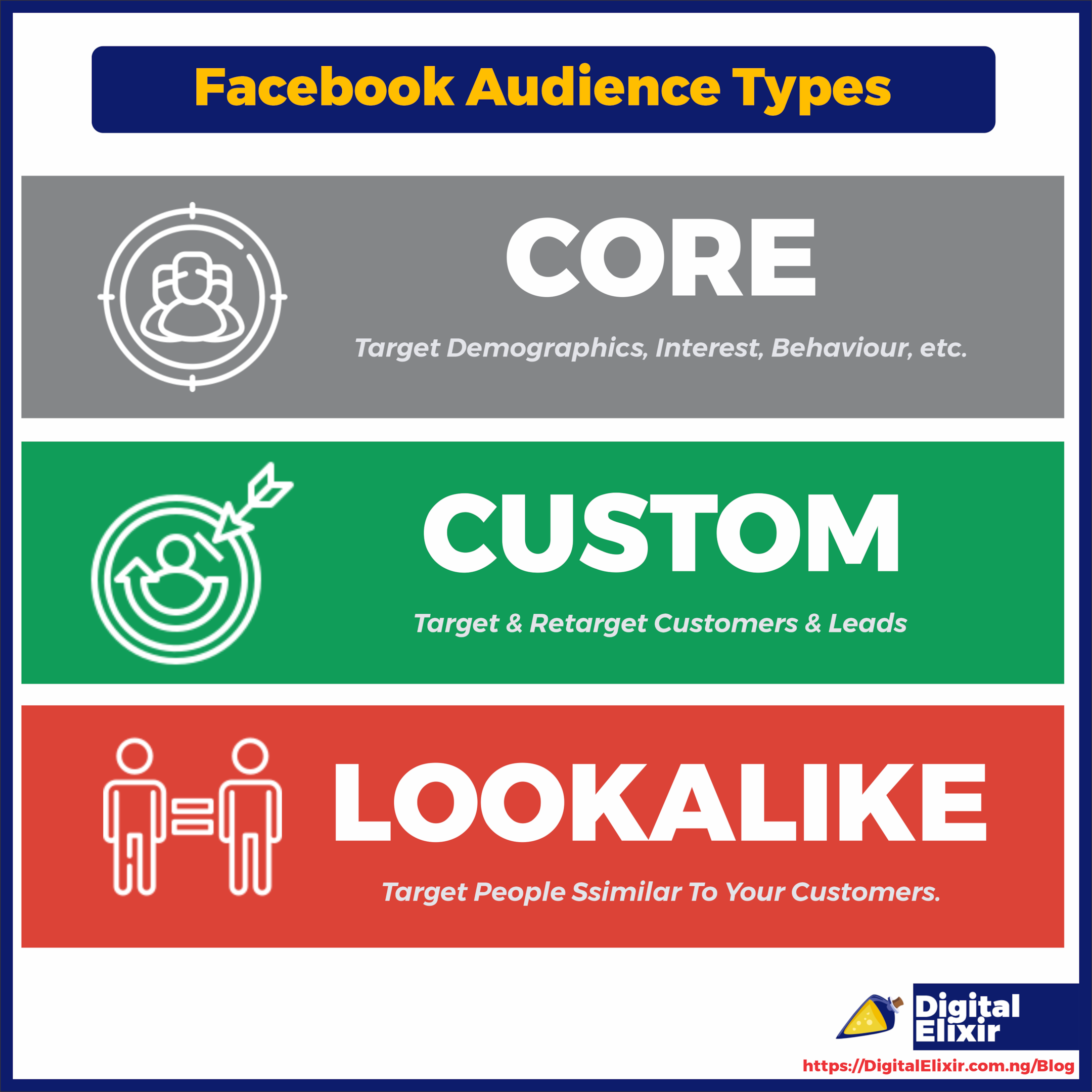 For detailed targeting, you can create rules so that the ad targets users with one OR another or one AND another interest. Either way, it's best to stick to just one or two interests or demographics per ad set. Otherwise, you won't know what audiences are working for you. You can always create new ad sets if you have more interests to target.

On the right, the Audience definition will tell you how large or small your audience will be based on the criteria chosen. Estimated daily results will tell you how many people you're estimated to reach based on your daily spending. Remember that these are just estimates and aren't always 100% reliable, so take them with a grain of salt.
Choose your placements
Now you'll choose your placements. Placements refer to where your Facebook ad will appear on the Facebook network. Between mobile and desktop, Instagram and Facebook, there are several placements to choose from.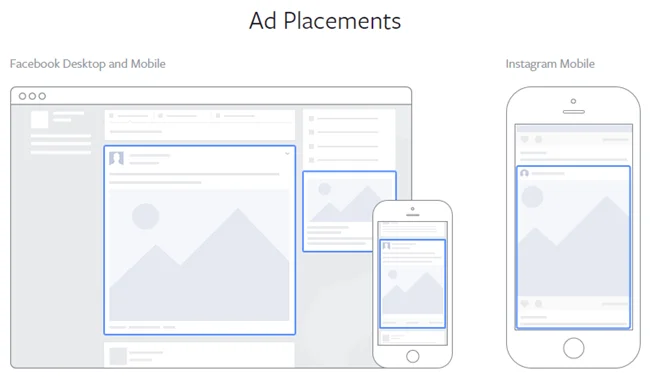 You'll have two options here: automatic or manual. You may be tempted to choose which placements you want manually, but if you're starting, it's best to leave it on automatic and let your ad show on every possible placement to start. Then, after a week or two, you can look at which placements are performing best, switch to manual, and optimize your placements from there.
7. Create your ad
Create your ad creative
The creative refers to the visual part of your ad, which should be its focal point. Facebook supports three ad formats: single image and video ads, carousel ads, and collection ads, and you have three creation options: use an existing post, a Creative Hub mockup, or upload your design.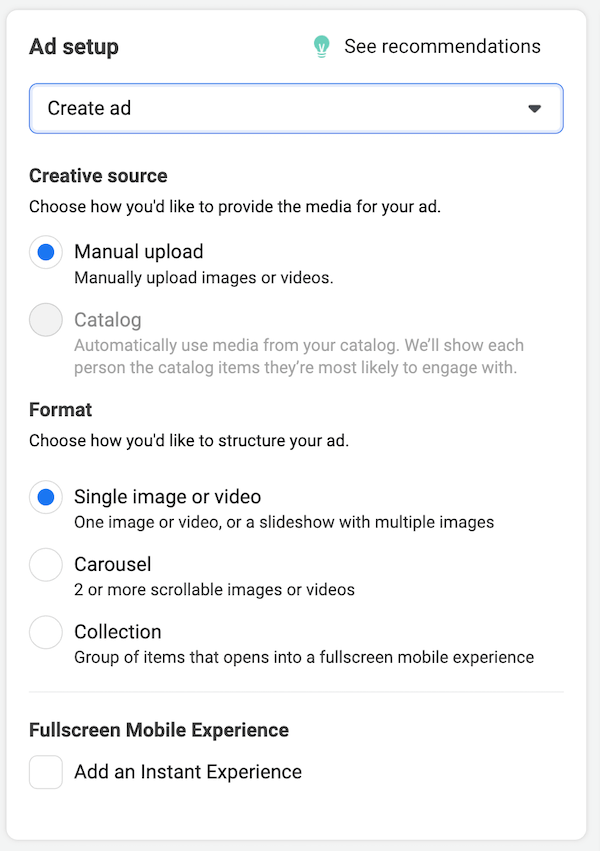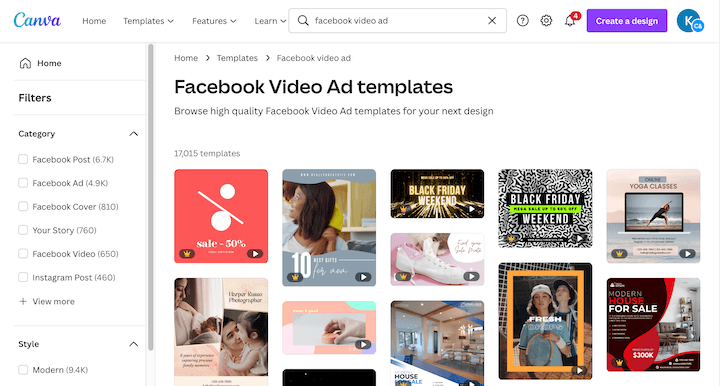 Facebook video ad templates in Canva
Write your copy
Next, it's time for your ad copy, which consists of:
Primary text: only the first 125 characters shown above the ad creative.

Headline: just below the creative, 40 characters or less.

Description: just below the headline, 30 characters or less.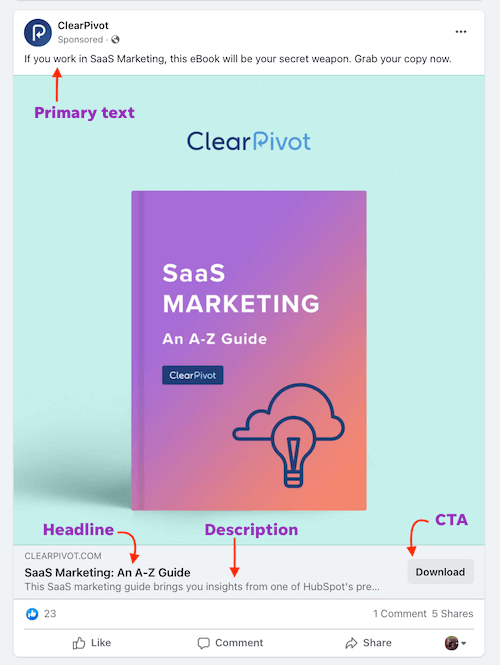 According to a study by AdEspresso, the perfect Facebook ad headline length is five words. In terms of sentiment, split-test both positive and negative emotions in your headlines. By using the exact targeting but switching up the ad copy, you'll see which emotional appeal resonates best with your target audience.
Choose your call to action.
Once you enter your ad copy, enter your website URL, and choose the call to action that makes the most sense for your offer. You can always A/B test this later!
Confirm your tracking
Last but not least, ensure your website event tracking is set up (if you skipped it earlier). You'll have the option to set up the app and offline events if applicable, as well as set a unique URL parameter so you can identify visitors to your website from this ad.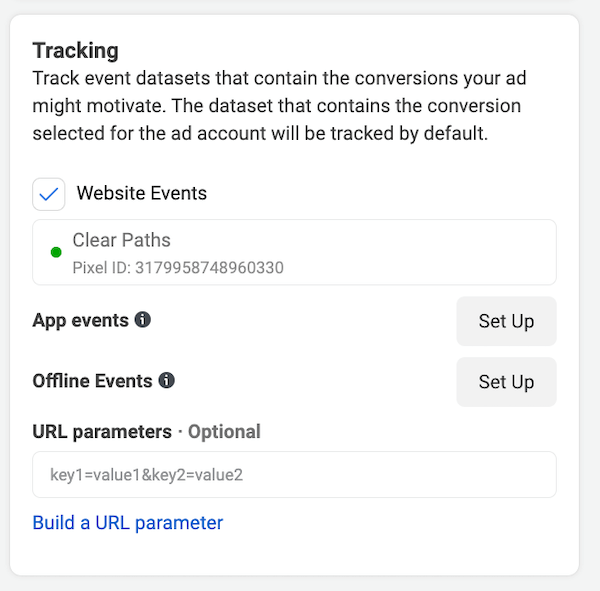 8. Publish!
That green button on the bottom right of your screen never looked so beautiful. Once you hit publish, an algorithm (and sometimes a person) will review for any Facebook Ad disapprovals, so your ad can take 24 hours (sometimes more) to get approved. Once it's up and running, your ad will go through a learning period during which Facebook will gather the performance data it needs to optimize who it delivers the ad to and when.
To recap, here is how to run Facebook ads:
Create a Business Suite account

Connect or create your Facebook Page

Create your ad account

Add the pixel to your website

Set up your web events

Set up the pixel

Verify your domain

Configure your web events

Create your Facebook ad campaign

Choose your campaign objective

Campaign settings

Create your Facebook ad set

Budget & schedule

Audience

Choose your placements

Create your ad

Create your ad creative

Write your copy

Hit publish
How to run Facebook ads in Nigeria: FAQs
Let's close out with answers to frequently asked questions about Facebook ads.
How does the Facebook ad auction work?
The Facebook ad auction works differently from the Google ad auction. The critical factors involved in determining who wins the Facebook ad auction include:
Your bid

Your ad quality and relevance

Your estimated action rates
These qualities ultimately determine your Facebook cost per click, which goes a long way in determining Facebook metrics tied more closely to revenue, like cost per action and cost per lead.
To make your ads as relevant as possible, ensure your target audience is meticulously crafted, your Facebook ad creative and messaging resonate with the target audience, and you're periodically rotating new ads in and out of your campaign.
How much do Facebook ads cost?
Depending on the industry, campaign objective, and other factors, the average Facebook cost per click can range anywhere from a quarter to $5. For a deeper dive, refer to our post on Facebook ad costs.
How does Facebook remarketing work?
Facebook remarketing (or retargeting) allows you to advertise to users who have already engaged with your business—on your website, app, Facebook Page, other Facebook ads, or even offline. You can upload lists of leads or customers to target via the pixel, and the Conversions API can also help identify these users. You can even layer audiences by combining retargeting with detailed targeting.
However, as pixel data is less reliable due to privacy, retargeting users based on their engagement with your business on Facebook is the way to go.
How should I structure my account?
For effective Facebook advertising, your Facebook Ads account structure should resemble a typical marketing funnel, with upper-funnel campaigns devoted to prospecting, mid-funnel campaigns devoted to Facebook lookalike audiences and other audiences with mid-tier granularity, and lower-funnel campaigns devoted to highly refined Facebook remarketing audiences.
Why aren't my Facebook ads working?
Running into a snafu where your Facebook ads aren't working is one of the most common Facebook ad fails for advertisers. And, as such, there's nothing to be embarrassed about. It happens to everybody. Some reasons your Facebook ads might not be working:
Your campaign objective doesn't match your goals.

Your targeting is too broad.

Your relevance score is too low.

You're lacking a message match.

Your ad creative is bland.
If your Facebook ads aren't working for one of these reasons, don't panic. Use the tips and resources in this article, and you will be back up and running quickly.